After a spell of unintended vegetarianism, it was with great enthusiasm that I set out with the TX200 MKIII. My spirit was set up and concealed under the hedge, lying in wait for that scrummy pigeon to land. All my backside needed to do was catch up.
I was shaken out of my day dreaming by a black sports car as it slowed to a halt beside me the window sliding down and the drivers sunglasses with it. It was the landowner! A welcome stop as he extended his permission to another field just below where I was walking. An old vineyard teaming with warrens and rabbit trails. Super!
I gave it a good scout and watching me was my first candidate. I missed him, twice. That's not normal for the MKIII and I'd checked zero before I came out... hmmm poor shooting then.
Off to wander the rest of the permission. Another chance. This encounter left me shaken and quite frankly angry and pissed off.
A rabbit not 40 yards away just behind a hillock. I crouched and crept to close the distance to 30-35 yards. Took my time and pulled the trigger, the head dropped. Either he was dead, or I'd missed and he'd run into the hedge. Those, I thought were the only two options.
The third, nightmarish one happened.
I approached and, as I drew near, a rabbit ran out into the middle of the field. Strange but not unheard of behaviour... A different rabbit? He stopped and I had a squint through the scope, sunlight glistened off his eye. But something seemed 'off'. I looked harder, yes, blood was pouring down his face. Oh God. This explained his bizarre antics. He was blind to his left. I exploited this in order to put things right and quickly. I was able to very quickly stride to within close range. Miss. WHAT! Reload. Miss. WHAT!!!!! Things got worse as he bolted back towards the hedgerow. Luckily he couldn't negotiate his way through and I was able to put a pellet in the back of his head.
No glory shot. (Definitely no glory) I practically ran back home to see what the hell had happened. A rifle that had been pellet on pellet missing at close ranges?! It was 8 clicks off to the left. Knocked in the bag? Not that I was aware of, I did take a slip in the vineyard... but had held the rifle away from harm. My inspection showed the eye was pierced, the 8 clicks off had probably sent the pellet too far forward on the head missing the brain.
With adjustments made I set out again wondering whether I should have switched to the 97k. Then the MKIII redeemed itself. I kept the range down and bagged three rabbits with clean headshots.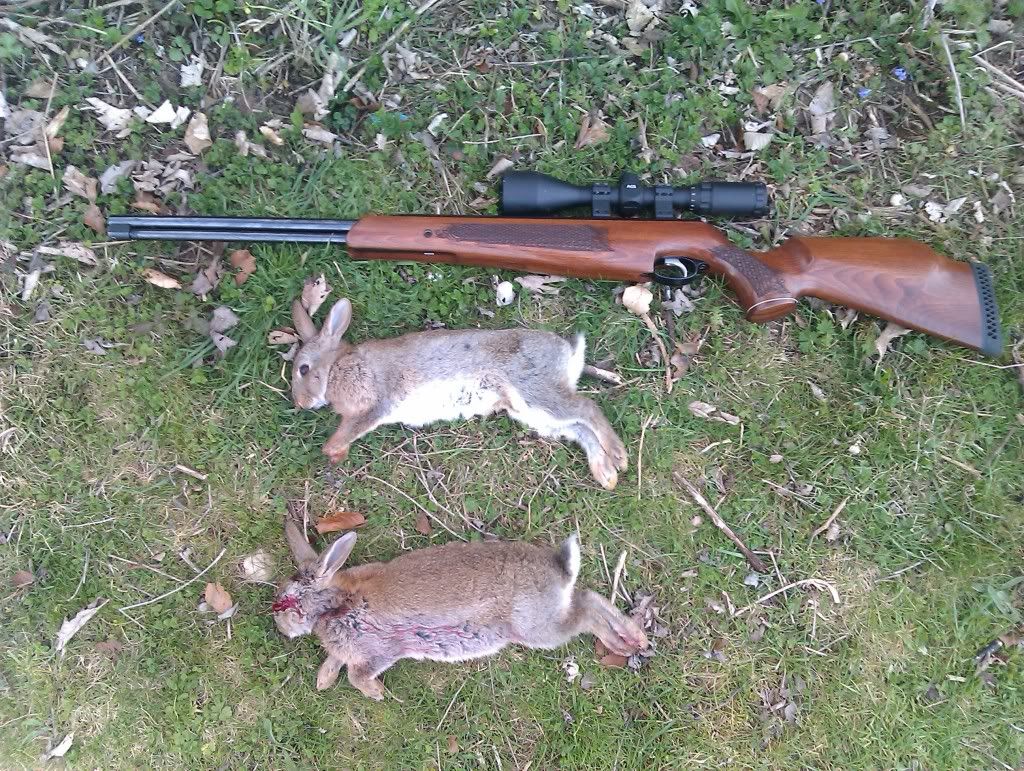 Still haunted by the scene I witnessed, I have decided the MKIII is in the sin bin awaiting a one piece mount and replacement scope when funds allow...
Hunting is not always as straight forward as many would have you believe, I'm sure my experience is not unique no matter how careful and particular a hunter is.
The rabbits were gifted to a random, and grateful, guy in the street. I explained the disparity and challenge of matching hunting to eat with pest control which had resulted in the surplus.
Anyhoo, an eventful and ultimately rather successful days hunting.